Breeze: product activation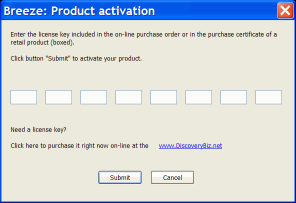 This dialog allows you to activate Breeze.
Commercial Breeze software packages include 30 days trial evaluation period.
Evaluation period starts immediately after installing software. During this period functionality of software is same as in the activated software. To continue using software after evaluation period expires, software has to be activated with a License key.
License key for downloaded software can be purchased on-line at the www.DiscoveryBiz.Net (see item "Purchase" in the menu).
Activation license key is issued immediately after purchasing a product.
Subscription access key for packages with 12 months subscription for free download upgrades, is issued immediately after purchasing a product.
Retail packages include product certificate where license key can be found.
After license key is obtained, Breeze can be activated. During evaluation period "About" dialog box shows button "Activate". Click this button to open the activation dialog. Enter license key in the activation dialog and then press button "Submit". Please, enter to the edit boxes only digits and letters of license key; do not enter dashes.
Before activation "About" dialog displays text information showing how many days are left for the trial evaluation. "About" dialog displays activation license key After successful activation . Button "Activate" is not shown in the "About" dialog box after activation.